Second's win at Glamorgan to clinch Wessex League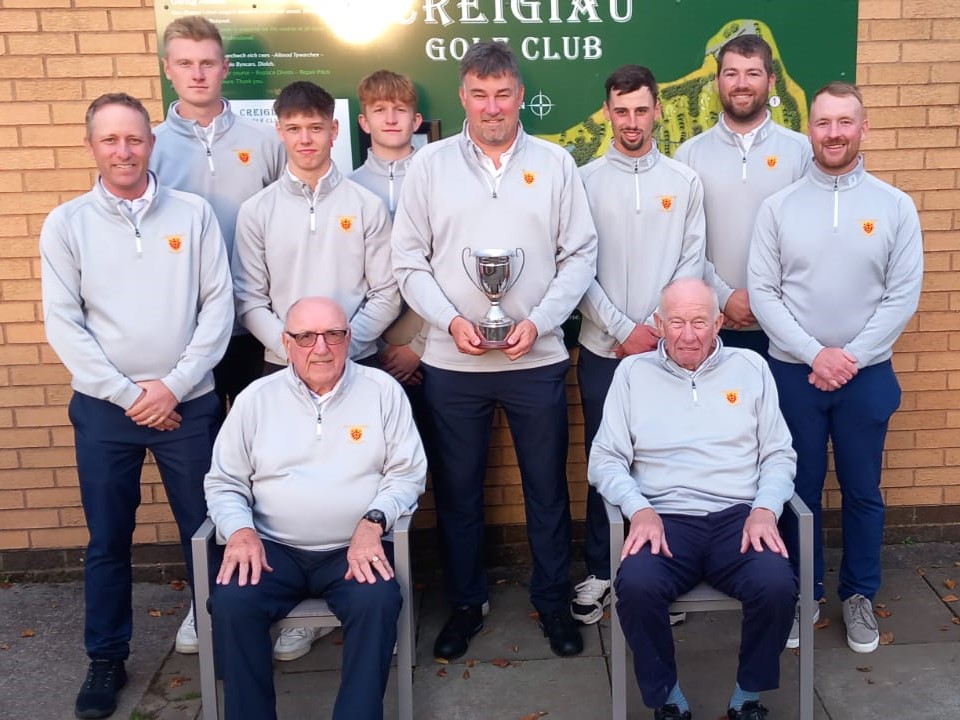 The 2nd team travelled to Creigiau Golf Club to play Glamorgan knowing that a win would secure the Wessex League and top off a fantastic unbeaten season after already winning the Wessex Salver earlier in the year.
With the golf course being shut for 2 days previously due to heavy rainfall the conditions underfoot were tricky and the course was playing much longer with very little roll on the ball on the fairways due to the softness of the ground.
The morning foursomes started off in terrific style with lead off paid of Charlie Taylor-Madge and Ryan Prosser putting in a very confident display securing a fine 4&3 victory. The middle two matches were much closer with James Bath and Adam Sutton losing on the 18th 1 down and Neil Tocknell and Lee Hanson losing 2&1. The final pairing saw Dave Allison and Ethan Holway going 1 down after 2 holes before incredibly winning the next 9 holes to secure a 8&7 victory which must be a record streak of holes won by a foursomes pairing. This meant the lunchtime score was 2-2 with everything to play for in the afternoon singles.
After their thumping foursomes victory Dave Allison and Ethan Holway were sent out in the first two matches hoping that their good form would continue and get the team off to a great start. This proved to be the case with Dave Allison securing a hard fought victory 2&1 and Ethan Holway again not wanting to see the last few holes it seemed as he claimed a magnificent 5&4 margin of success and clearly loving playing at Creigiau. Charlie Taylor-Madge matched his score in the morning by again winning by a 4&3 scoreline and although James Bath played well and was under par his opponent defeated him 4&3. Adam Sutton was 4 down after 4 to four straight birdies which was excellent golf by his opponent and ended up losing 7&6 so the overall match score was still very tight.
Lee Hanson though produced some good golf of his own to secure a 2&1 victory meaning that a half point was all that was needed from the two remaining matches on the course to secure victory. However with both Ryan Prosser and Neil Tocknell being 1 down playing the 18th in their matches the team waited around by the green for them to finish off. Ryan was first to play the 18th and managed a birdie which was not matched by his opponent meaning the all important half was gained and victory secured taking the pressure off the skipper who also managed to birdie the last secure another half point meaning the final match score was 7-5 to Gloucestershire.
Special thanks to Alan Robinson and Ian Hughes who have supported the 2nd team all year which really is appreciated by the whole team and it was great to see 1st team captain Gary Ward at the match giving his encouragement.
Thank you to Creigiau Golf Club and their members for the hospitality and to the Glamorgan team for a fantastically hard fought battle.
To all the players who have represented the 2nd team this year, thank you very much, everybody has contributed and we really are a TEAM as our results have shown.
FULL MATCH RESULTS HERE
Neil Tocknell - Second Team Captain